Addictions UK are delighted to meet with our friends at the Hope Trust in Hyderabad and we will be convening a series of workshops between our respective staff groups. In particular we will be conducting training in 12 step facilitation, meditation and counselling.
Rahul Luther, the Managing Director of the Hope Trust and James King, his opposite number at Addictions Uk, the leading provider of Home based  Addictions Treatment services in the UK. Agreed an ambitious time table that will concentrate on Accredited Training, and  Medical Detox, including community home detox both in India and the United Kingdom.
Rahul Luther conducted the first joint lecture on Recovery  – How can we change our lives.  Three delegates from the United Kingdom and twenty people aform the Hyderabad spent a demanding morning looking at the various details of treatment protocols for people with pathological dependence issues and dual diagnosis.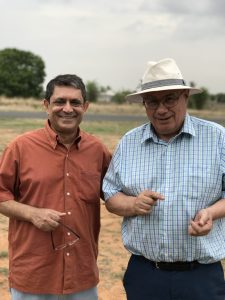 Rahul Luther Managing Director of the Hope Trust advising James King of Addictions UK.
There was agreement between the two international organisations about much of our work together.  Hope Trust is the leading addictions treatment facility in Asia and employ a large staff team comprising of doctors, nurses, psychologists, counsellors and other specialists.  They offer residential and out-patient treatment.  Addictions UK offer community treatment schemes throughout the United Kingdom and in Ireland including medical treatments including home detox.
During the next two weeks our  respective agencies will continue with our joint programme of offering accredited training courses  – especially to those counsellors and recovery coaches who wish to gain employment with our sector.
For further information on how you may become involved in the United Kingdom please send an e-mail to info@addictionsuk.com or a message through our website – www.addictionsuk.com.  Telephone 0300 3303040